Test papers and essays comments
---
These comments come from test papers and essays submitted to science and health teachers by elementary, junior high, high school and college students. Please note that the original spelling has been left intact.
---
"The body consists of three parts - the branium, the borax, and the abominable cavity. The branium contains the brain, the borax contains the heart and lungs, and the abominable cavity contains the bowels, of which there are five - a, e, i, o, and u."
"Nitrogen is not found in Ireland because it is not found in a free state."
"H2O is hot water, and CO2 is cold water."
"To collect fumes of sulphur, hold a deacon over a flame in a test tube."
"When you smell an oderless gas, it is probably carbon monoxide."
"Water is composed of two gins, Oxigin and Hydrogin. Oxygin is pure gin. Hydrogin is gin and water."
"Blood flows down one leg and up the other."
"Respiration is composed of two acts, first inspiration, and then expectoration."
"The moon is a planet just like the earth, only it is even deader."
"Artificial insemination is when the farmer does it to the cow instead of the bull."
"Dew is formed on leaves when the sun shines down on them and makes them perspire."
"A super saturated solution is one that holds more than it can hold."
"Mushrooms always grow in damp places and so they look like umbrellas."
"The pistol of a flower is its only protections agenst insects."
"The skeleton is what is left after the insides have been taken out and the outsides have been taken off. The purpose of the skeleton is something to hitch meat to."
"A permanent set of teeth consists of eight canines, two molars, and eight cuspidors."
"The tides are a fight between the Earth and moon. All water tends towards the moon, because there is no water in the moon, and nature abhors a vacuum. I forget where the sun joins in this fight."
"A fossil is an extinct animal. The older it is, the more extinct it is."
"Equator: A managerie lion running around the Earth through Africa."
"Germinate: To become a naturalized German."
"The four seasons are: salt, pepper, mustard and vinegar."
"One of the processes by which water can be made safe to drink is flirtation makes water safe to drink because it removes large pollutants like grit, sand, dead sheep and canoeists."
"You can delay milk turning sour keeping it in the cow."
"Steroids are things for keeping carpets still on the stairs."
"When you get old, so do your bowels and you get intercontinental."
"When a boy reaches puberty he says good-bye to his boyhood and looks forward to his adultery."
"A major disease associated with cigarettes is premature death."
"The fibula is small lie.
"''Varicose' means nearby."
"The Caesarean Section is a district in Rome."
"Benign is what you will be after you be eight."
---
HOW DO YOU DECIDE WHO TO MARRY?

You got to find somebody who likes the same stuff. Like, if you like sports,she should like it that you like sports, and she should keep the chips and dip coming. (Alan, age 10)
No person really decides before they grow up who they're going to marry. God decides it all way before, and you get to find out later who you're stuck with. (Kirsten, age 10)

WHAT IS THE RIGHT AGE TO GET MARRIED?

Twenty-three is the best age because you know the person FOREVER by then. (Camille, age 10)
No age is good to get married at. You got to be a fool to get married. (Freddie, age 6, [Very wise for his age])

HOW CAN A STRANGER TELL IF TWO PEOPLE ARE MARRIED?

You might have to guess, based on whether they seem to be yelling at the same kids. (Derrick, age 8)

WHAT DO YOU THINK YOUR MOM AND DAD HAVE IN COMMON?

Both don't want any more kids. (Lori, age 8)

WHAT DO MOST PEOPLE DO ON A DATE?

Dates are for having fun, and people should use them to get to know each other. Even boys have something to say if you listen long enough. Lynnette, age 8, [Isn't she a treasure])
On the first date, they just tell each other lies, and that usually gets them interested enough to go for a second date. (Martin, Age 10)

WHAT WOULD YOU DO ON A FIRST DATE THAT WAS TURNING SOUR?

I'd run home and play dead. The next day I would call all the Newspapers and make sure they wrote about me in all the dead columns. (Craig, age 9)

WHEN IS IT OKAY TO KISS SOMEONE?

When they're rich. (Pam, age 7)
The law says you have to be eighteen, so I wouldn't want to mess with that.(Curt, age 7)
The rule goes like this: If you kiss someone, then you should marry them and have kids with them. It's the right thing to do. (Howard, age 8)

IS IT BETTER TO BE SINGLE OR MARRIED?

It's better for girls to be single but not for boys. Boys need someone to clean up after them. (Anita, age 9, [Bless you, child])

HOW WOULD THE WORLD BE DIFFERENT IF PEOPLE DIDN'T GET MARRIED?

There sure would be a lot of kids to explain, wouldn't there? (Kelvin, age 8)

HOW WOULD YOU MAKE A MARRIAGE WORK?

Tell your wife that she looks pretty even if she looks like a truck. (Ricky, age 10, [the Lord hath spoke]).
---
Kids are quick
TEACHER: Maria, go to the map and find North America
MARIA: Here it is.
TEACHER: Correct. Now class, who discovered America?
CLASS: Maria.
TEACHER: John, why are you doing your math multiplication on the floor?
JOHN: You told me to do it without using tables.
TEACHER: Glenn, how do you spell 'crocodile'?
GLENN: 'K-R-O-K-O-D-I-A-L'
TEACHER: No, that's wrong.
GLENN: Maybe it is wrong, but you asked me how I spell it.
TEACHER: Donald, what is the chemical formula for water?
DONALD: H I J K L M N O.
TEACHER: What are you talking about?
DONALD: Yesterday you said it's H to O.
TEACHER: Winnie, name one important thing we have today that we didn't have ten years ago.
WINNIE: Me!
TEACHER: Glen, why do you always get so dirty?
GLEN: Well, I'm a lot closer to the ground than you are.
TEACHER: Millie, give me a sentence starting with 'I'.
MILLIE: I is...
TEACHER: No, Millie... Always say, 'I am'.
MILLIE: All right...: 'I am the ninth letter of the alphabet'.
TEACHER: George Washington not only chopped down his father's cherry tree, but also admitted it. Now, Louie, do you know why his father didn't punish him?
LOUIS: Because George still had the axe in his hand.
TEACHER: Now, Simon, tell me frankly, do you say prayers before eating?
SIMON: No sir, I don't have to, my Mom is a good cook.
TEACHER: Clyde , your composition on 'My Dog' is exactly the same as your brother's. Did you copy his?
CLYDE : No, sir. It's the same dog.
TEACHER: Harold, what do you call a person who keeps on talking when people are no longer interested?
HAROLD: A teacher.
Received by e-mail, April 20, 2010.
---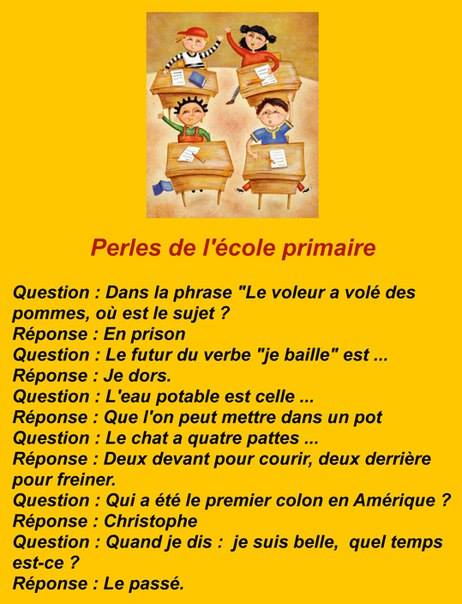 ---
The Pearls of student copies
1. in the war of 14-18, soldiers died several times, first because of the bombs, and then because they were forced to eat mud.
2. After a car crash, you can be disabled from the engine.
3. François Mitterrand was the successor to François 1 ER.
4. years ago, the Chinese didn't need a computer because they were counting on their balls.
5. It was general pompidou who overthrew de gaulle with the coup d ' état of may 68.
6. Clovis died at the end of his life.
7. Alcohol makes it possible to make drinking water.
8. George Sand was a homosexual who loved men...
9. Joan of arc didn't like being called a virgin.
10. Thanks to the structure of his eye, an eagle is able to read a newspaper at 400 meters.
11. The Raven's female is called the trash.
12. If you took your ged it means since kindergarten you get up at 8 for nothing.
13. July 14 is the bastille day festival.
14. Zero is the only figure that allows to count to one.
15. A dead language is a language that is spoken only by the dead.
16. I want to be retired from work!
J'aime le français, September 5, 2017.
---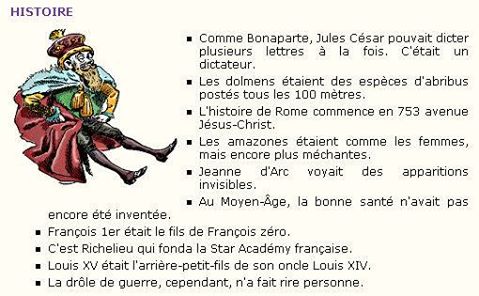 J'aime le français, September 5, 2017.
---

Back to my Home Page
El Tesoro de la Jumentud > La Página de las lecciones recrativas > Test papers and essays comments