A German's view on Islam
---
A man, whose family was German aristocracy prior to World War II, owned a number of large industries and estates. When asked how many German people were true Nazis, the answer he gave can guide our attitude toward fanaticism. 'Very few people were true Nazis,' he said, 'but many enjoyed the return of German pride, and many more were too busy to care. I was one of those who just thought the Nazis were a bunch of fools. So, the majority just sat back and let it all happen. Then, before we knew it, they owned us, and we had lost control, and the end of the world had come. My family lost everything. I ended up in a concentration camp and the Allies destroyed my factories.'

We are told again and again by 'experts' and 'talking heads' that Islam is the religion of peace and that the vast majority of Muslims just want to live in peace. Although this unqualified assertion may be true, it is entirely irrelevant. It is meaningless fluff, meant to make us feel better, and meant to somehow diminish the spectre of fanatics rampaging across the globe in the name of Islam.

The fact is that the fanatics rule Islam at this moment in history. It is the fanatics who march. It is the fanatics who wage any one of 50 shooting wars worldwide. It is the fanatics who systematically slaughter Christian or tribal groups throughout Africa and are gradually taking over the entire continent in an Islamic wave. It is the fanatics who bomb, behead, murder, or honour-kill. It is the fanatics who take over mosque after mosque. It is the fanatics who zealously spread the stoning and hanging of rape victims and homosexuals. It is the fanatics who teach their young to kill and to become suicide bombers.

The hard, quantifiable fact is that the peaceful majority, the 'silent majority,' is cowed and extraneous.

Communist Russia was comprised of Russians who just wanted to live in peace, yet the Russian Communists were responsible for the murder of about 20 million people. The peaceful majority were irrelevant. China's huge population was peaceful as well, but Chinese Communists managed to kill a staggering 70 million people.

The average Japanese individual prior to World War II was not a warmongering sadist. Yet, Japan murdered and slaughtered its way across South East Asia in an orgy of killing that included the systematic murder of 12 million Chinese civilians; most killed by sword, shovel, and bayonet.

And who can forget Rwanda , which collapsed into butchery. Could it not be said that the majority of Rwandans were 'peace loving'?

History lessons are often incredibly simple and blunt, yet for all our powers of reason, we often miss the most basic and uncomplicated of points:

Peace-loving Muslims have been made irrelevant by their silence.
Peace-loving Muslims will become our enemy if they don't speak up, because like my friend from Germany , they will awaken one day and find that the fanatics own them, and the end of their world will have begun.

Peace-loving Germans, Japanese, Chinese, Russians, Rwandans, Serbs, Afghans, Iraqis, Palestinians, Somalis, Nigerians, Algerians, and many others have died because the peaceful majority did not speak up until it was too late. As for us who watch it all unfold, we must pay attention to the only group that counts--the fanatics who threaten our way of life.

Lastly, anyone who doubts that the issue is serious and just deletes this email without sending it on, is contributing to the passiveness that allows the problems to expand. So, extend yourself a bit and send this on and on and on! Let us hope that thousands, world-wide, read this and think about it, and send it on - before it's too late.

(Received by e-mail Apr/26/2013).
---
Wafa Sultan debate con Sheikh Omar Bakri (video subtitulado en español).
---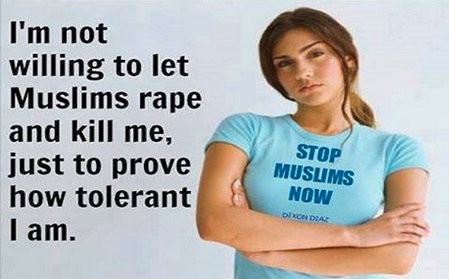 ---
La relación entre el islam y la cultura, y en particular la arqueología, es por lo general negativa: hay que pensar en la reciente destrucción de Palmira y en cómo los saudíes, en los últimos años, han ido arrasando cualquier vestigio antiguo (ante la mirada complaciente de la UNESCO).

María Palomar
(v.pág.6-B del periódico El Informador del 23 de abril de 2017).
---
¿Se trata de demostrar el desprecio que les merece una cultura que, desde su punto de vista, está moralmente envilecida porque es obscena, sensual y corrompe a las mujeres otorgándoles los mismos derechos que a los hombres? Pero esto no tiene sentido, porque la verdad es que el podrido Occidente atrae como la miel a las moscas a millones de musulmanes que están dispuestos a morir ahogados con tal de introducirse en este supuesto infierno.
Tampoco parece muy convincente que los terroristas del Estado Islámico o Al-Qaeda sean hombres desesperados por la marginación y la discriminación que padecen en las ciudades europeas. Lo cierto es que buen número de los terroristas han nacido en ellas y recibido allí su educación, y se han integrado más o menos en las sociedades en las que sus padres o abuelos eligieron vivir. Su frustración no puede ser peor que la de los millones de hombres y mujeres que todavía viven en la pobreza (algunos en la miseria) y no se dedican por ello a despanzurrar a sus prójimos.
La explicación está pura y simplemente en el fanatismo, aquella forma de ceguera ideológica y depravación moral que ha hecho correr tanta sangre e injusticia a lo largo de la historia. Es verdad que ninguna religión ni ideología extremista se ha librado de esa forma extrema de obcecación que hace creer a ciertas personas que tienen derecho a matar a sus semejantes para imponerles sus propias costumbres, creencias y convicciones.
El terrorismo islamista es hoy día el peor enemigo de la civilización. Está detrás de los peores crímenes de los últimos años en Europa, esos que se cometen a ciegas, sin blancos específicos, a bulto, en los que se trata de herir y matar no a personas concretas sino al mayor número de gentes anónimas, pues, para aquella obnubilada y perversa mentalidad, todos los que no son los míos -esa pequeña tribu en la que me siento seguro y solidario- son culpables y deben ser aniquilados.
Nunca van a ganar la guerra que han declarado, por supuesto. La misma ceguera mental que delatan en sus actos los condena a ser una minoría que poco a poco -como todos los terrorismos de la historia- irá siendo derrotada por la civilización con la que quieren acabar. Pero desde luego que pueden hacer mucho daño todavía y que seguirán muriendo inocentes en toda Europa como los 14 cadáveres (y los 120 heridos) de las Ramblas de Barcelona y sembrando el horror y la desesperación en incontables familias.
Acaso el peligro mayor de esos crímenes monstruosos sea que lo mejor que tiene Occidente -su democracia, su libertad, su legalidad, la igualdad de derechos para hombres y mujeres, su respeto por las minorías religiosas, políticas y sexuales- se vea de pronto empobrecido en el combate contra este enemigo sinuoso e innoble, que no da la cara, que está enquistado en la sociedad y, por supuesto, alimenta los prejuicios sociales, religiosos y raciales de todos, y lleva a los gobiernos democráticos, empujados por el miedo y la cólera que los presiona, a hacer concesiones cada vez más amplias en los derechos humanos en busca de la eficacia.
Mario Vargas Llosa
(v.pág.2-B del periódico El Informador del 20 de agosto de 2017).
---

Back to my Home Page
El Tesoro de la Jumentud > La Página de las lecciones recrativas > A German's view on Islam